Event: Love Island 2022  Category: Love Island  Published: Mon 30th May 2022 00:21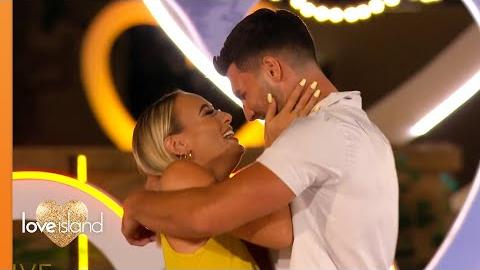 The undisputed king of Love Island analysis and betting, Tom, has very kindly volunteered to share his invaluable wisdom on all things Love Island with TellyStats.com visitors.
Follow him at @tomstvtips.
Love Island returns to ITV2 on Monday 6th June with an extended 10-week format providing reality TV and specials punters with some summer markets to invest in.
For those unfamiliar with the show, the aim is to couple up and progress through rounds of eliminations to the final with either your current partner or any bombshells (new contestants) that catch your eye along the way. Some of the eliminations and more importantly who wins are determined by the public via app voting, so perception outside the villa is hugely important.
The winning couple is announced in the final and a member of the winning couple has the opportunity to share the £50k winner's prize or steal it for themselves. To date the prize has always been shared.
---
Markets
Much like Big Brother there are markets for; top male and top female, but we also have top couple, next male or female to be dumped, forecasts, tricasts and word bingo. Paddy Power, William Hill and Sky Bet tend to have more side markets with the most popular top male and top female events listed on Betfair and Smarkets.
The winner's market can be very volatile and odds can swing dramatically. In 2019 eventual winner Amber drifted out to 12/1 from 11/10 after being dumped by Michael while bombshell Greg entered the villa at 25/1. Large profits were made by anyone confident enough to take on the 1/10 favourites of Molly-Mae and Tommy Fury.
For those who like to bet in the final few days Amber and Greg were available at 6/1 over the final weekend but shortened to 4/6 on the morning of their win.
In the 2020 Winter edition Paige and Finn won when second in the market behind Siannise and Luke T and last year's top male winner Liam drifted to 6/1 after betraying long term partner Millie by kissing another girl at Casa Amor. Liam and Millie 10/11 would go on to beat Toby and Chloe in the final, who themselves traded at huge prices earlier on in the series.
Taking advantage of these fluctuations and not being afraid to back a drift can be a profitable strategy.
---
New For 2022
There are unconfirmed rumours the cast will include members from the LGBTQ+ community and the dramatic Casa Amor stage may be replaced with something new.
The pressure to cast LGBTQ+ islanders to improve diversity has been growing with production comments suggesting their inclusion will mean a change to the format of the recouplings. This would impact our approach to betting on both the winner and the next to be dumped (eliminated) markets, so something to look out for when we know more about the format.
During the Casa Amor stage couples are split with half remaining in the villa and half going to a second villa called Casa Amor. New bombshells enter both villas to test the strength of Islanders relationships.
I'm doubtful production will remove Casa Amor and it's explosive aftermath as this would leave hours of airtime to fill, especially with an extended series. Casa Amor is also part of the Love Island brand which ITV are unlikely pull apart completely while under threat from a string of rival shows that have joined the TV dating market.
Shows like the Netflix hit Too Hot to Handle, E4's Married at First Sight and Temptation Island are all encroaching on Love Islands USP. Love Island looks nervous, highlighted by their social media team have updating their Twitter account to "The OGs of love" and promo teasers contain the strap line "Love, we own it".
Love Island have also broken ties with the fast fashion industry to partner with eBay. This means contestants will no longer be given new clothes to wear, instead they will be asked to model second-hand clothing. What influence the fashion sponsors had on who won is unclear, but we do know that contestant Brett (2021) refused to wear the fast fashion labels and instead opted for his own sustainable clothing. He was warned his choice would impact how widely his imagine was shared on social channels.
---
Social Media
Love Island is one of the most tweeted about shows every summer. Fans engage with the near real time storylines and openly share their views far more than they do with any of the pre-recorded, rival shows mentioned above. This is great for us reality TV punters who use the social media data to quantify public opinion. This is where Tellystats excels, providing at a glance, aggregated data from all the tweets made during the show. This can often run into tens of thousands of opinions summarised into handy tables and charts.
For anyone that's new to Love Island but experienced playing other reality markets like Big Brother, X Factor or BGT your skills will be transferrable. Tellystats tracks mentions, to win, likes, followers and sentiment which are all key indicators of popularity. The skill is in finding which metric most predicts the intentions of those voting on the Love Island app.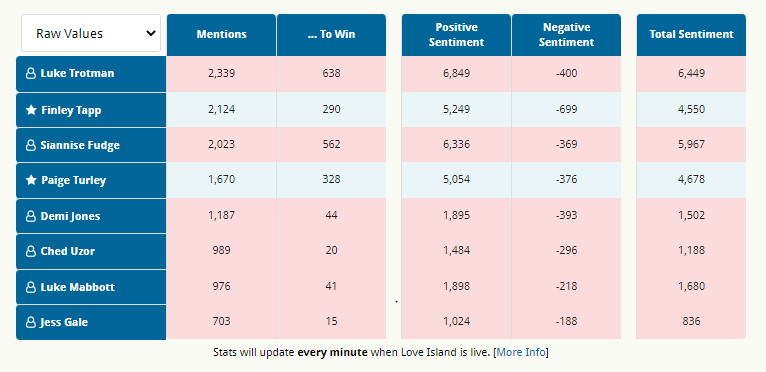 To assist I would encourage you to explore the feature called sentiment by gender. Love Island is aimed at the female viewers so focusing on the opinions of females can only help guide your selections. The example below was from the lead up to Jordan's elimination.

Another handy tool is sentiment over time. This is 2021 winner Liam's and you can see his sentiment falls dramatically after the kiss but rebounds quickly. This corresponds with Liam's odds drifting and then coming back in.

For those following the stats one point of caution I'd raise is the quality of the islander's social media managers can vary. Some contestants like Molly-Mae had PR companies run their socials. Others like Shaughna Philips used a friend with a background in PR, but most are run by friends and family with varying level of success and engagement.
Amber was a huge Twitter success. Her account was run by her friend Mart and he was brilliant. I'd encourage account managers to copy his light-hearted, fun approach if they want to give their islander the best shot of making the most money after the show.

Shout out too to Ryan who ran Millie's Instagram account which was also spot on.

For us punters however, this variance in quality must be considered in any analysis of follower numbers and post likes. We should ask ourselves, If the account was better run would the islander have more followers? Is the account smashing it because it's manager is funny or have they been endorsed by another influencer or celebrity?
Worth also noting that a number of the islanders won't have Twitter which leaves the door open for imitation accounts. Siannise (2020) and Faye (2021) have been the highest profile victims. This is something to look out for when seeing follower account numbers that are out of sync with the norm. Dan and I spend a lot of time verifying the accounts published on Tellystats so, if you don't see an account listed it's likely to be fake and its follower count therefore unreliable.
---
Winning Contestants
Those who follow the trends will know OG's (originals) have a great record on the show. This is logical as they have the most screen time and viewer familiarity. Last year's winners Liam and Millie where the first pair of bombshell winners. Until last year every winning couple included at least one OG.
Early bombshells like Molly-Mae, Jess Gale and Chole Burrows have all made the final so perhaps the tide is turning in favour of the bombshells over the OGs?
Trends aside strong personalities with good morals and humour are the factors I look for. Regional support is also important with past winners tending to come from patriotic regions of the UK.
For those betting early in the series I'd will be looking for data on Tellystats to support and shape my first selections. Twitter is very vocal in the early stages, so it's the best week one barometer but be wary that some contestants like Toby and Chloe were able to reverse the viewers early perception of them so keep your liabilities in check.
As the show progresses Instagram, TikTok and Facebook build momentum and should form part of your analysis for a complete picture of a contestant's popularity.
Finally, the Love Island Twitter bubble can be a harsh and toxic place so please be kind.
Best of luck with your selections.
Tom - @tomstvtips