Event: Eurovision 2019  Category: Eurovision  Published: Mon 13th May 2019 01:02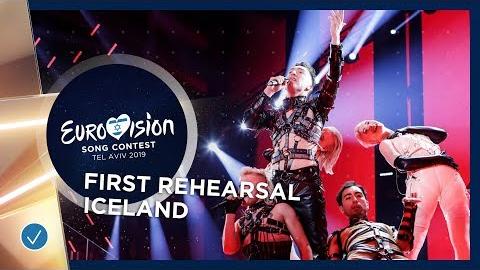 The semi-finals are finally upon us! I was lucky enough to travel to Tel Aviv to watch the rehearsals in the Press Centre (and occasionally live in the arena). With regards to rehearsal footage, the official Eurovision channel is really only active on YouTube, so although we would normally want to analyse info from various platforms, we'll have to work with what we have.
Tabled below is a list of all the first semi contestants. It lists the YouTube Views and Likes for both the first and second rehearsals. Whether or not they're in the Top 10 for that particular metric is indicated by a green or red background colour.
---
| | Rehearsal 1: Views | Rehearsal 2: Views | Rehearsal 1: Likes | Rehearsal 2: Likes |
| --- | --- | --- | --- | --- |
| Cyprus | 283,512 | 246,603 | 7,245 | 5,590 |
| Greece | 239,355 | 189,344 | 8,848 | 7,680 |
| Poland | 154,974 | 108,548 | 4,264 | 4,207 |
| Australia | 152,172 | 131,287 | 5,037 | 5,659 |
| Iceland | 121,402 | 126,960 | 4,103 | 5,173 |
| Slovenia | 103,262 | 85,919 | 3,460 | 3,695 |
| Belarus | 99,890 | 130,401 | 3,262 | 4,074 |
| Portugal | 137,874 | 92,498 | 4,134 | 2,935 |
| Belgium | 107,603 | 85,694 | 3,262 | 2,791 |
| Serbia | 86,513 | 88,702 | 3,368 | 4,584 |
| Georgia | 79,103 | 70,761 | 2,801 | 3,005 |
| Hungary | 66,257 | 69,773 | 2,580 | 3,088 |
| Finland | 120,288 | 78,224 | 1,791 | 1,838 |
| San Marino | 74,837 | 75,592 | 2,465 | 2,326 |
| Estonia | 64,866 | 60,089 | 2,053 | 1,720 |
| Czech Republic | 99,109 | 79,248 | 2,708 | 2,337 |
| Montenegro | 60,328 | 70,135 | 1,384 | 1,271 |
All stats from 1 Day scale. Click column headers to reorder.
Semi Final 1 Analysis:
7 countries in this semi are in the Top 10 for every metric. Cyprus, Greece, Poland, Australia, Belarus, Iceland and Slovenia. 4 countries in this semi aren't in the Top 10 for any metric. Montenegro, Estonia, Czech Republic and San Marino.
Cyprus and Greece have by far the strongest stats in this semi, beware though, Greece had excellent stats last year and failed to qualify, the diaspora was an absolute factor in the inflation of the statistics. You don't need to be an anthropologist to work out why Cyprus might also have high stats too. This isn't to say that one of these two doesn't win this semi - they probably will, just be careful when taking these numbers into the context of the overall competition.
Poland - In a similar vein, beware of Poland's diaspora inflating the stats, they too did very well last year only to end up not qualifying. They're in the Top 6 on every measure so even if the stats have been inflated a little, they still stand a solid chance of qualification.
Australia - I hated Australia's national final performance and wrote a scathing review, however the song has been redone, the heavy beat removed, the end of the song neatened up and wow - it's now one of my favourites. I was in the arena watching this rehearsal live, no question it qualifies.
Slovenia - Another that I didn't like at first but then found myself coming back to again and again. The simplicity of this entry compared to all others is a USP, the song is hypnotic as ever. It qualifies on all our stats, seems like a solid bet.
Belarus - Belarus has to be the value pick here, qualifying on every stat. I felt Zena gave remarkably confident rehearsals for a 16-year-old. The song isn't fantastic but she's an unbelievable 3.65 to qualify. Further, it's expected that first rehearsals would garner higher stats compared to the second as expectant fans want to see what the contestant has in store. Belarus was one of only a few countries to significantly buck that trend, their second rehearsal stats are significantly higher than the first, indicating greater support and anticipation.
Portugal is an enigma for me, the music is terrible, the rehearsals were terrible and yet the stats are strong. Even elsewhere, we monitored other Eurovision posts in the 'Pre-Shows' section of the stats, again Portugal performs well in those. I have to ignore the stats and stick to my convictions on this one and say that this song must just have obsessive fans, surely it doesn't qualify.
San Marino - Not qualifying on any stats at all. I personally found this song to be fun and accessible but clearly it's being rejected. It'll be decimated by the juries, of course but don't forget, it has the pimp slot. Could it sneak into the final? At 3.6 to qualify it might be worth a nibble.
Czech Republic - it may come as a surprise to many that it's doing so badly in the stats, particularly when it's 1.27 to qualify on Betfair. The rehearsals simply weren't great, the vocals were off and it doesn't seem to come together.
Hungary - This is another that everyone in the press room assures me will qualify, mainly on the basis of Joci himself. Nobody is talking about this song. I find it quite featureless and the rehearsal didn't improve much for me. I maintain that Hungary are in danger of not qualifying, 1.16 to qualify is insanity. Should be closer to 1.7.
Belgium - I wasn't convinced by his rehearsals at all. Eliot looked lost, while the stats have him qualifying on 3/4 of stats types, he's in 10th place for two of them. I can't really see many others who could qualify though...
As things currently stand, my qualifiers for this semi are: Greece, Cyprus, Iceland, Australia, Slovenia, Serbia, Belarus, Poland, Hungary and Belgium - in that order.
Remember, these are only YouTube stats so our options are limited. Come the semi-finals we're going to have ALL stats monitoring, Twitter, Facebook, Instagram, YouTube and Twitter Live. We'll get a much more rounded picture of the situation. The above prediction is based on the stats and my viewing of the rehearsals here in Tel Aviv but as ever, take with a pinch of salt - look at the stats yourself and draw your own conclusions. The vast majority of our bets will be placed in-running.
Comments
TS Fan
Great analysis tellystats. Look forward to all the other SM metrics in the coming days.